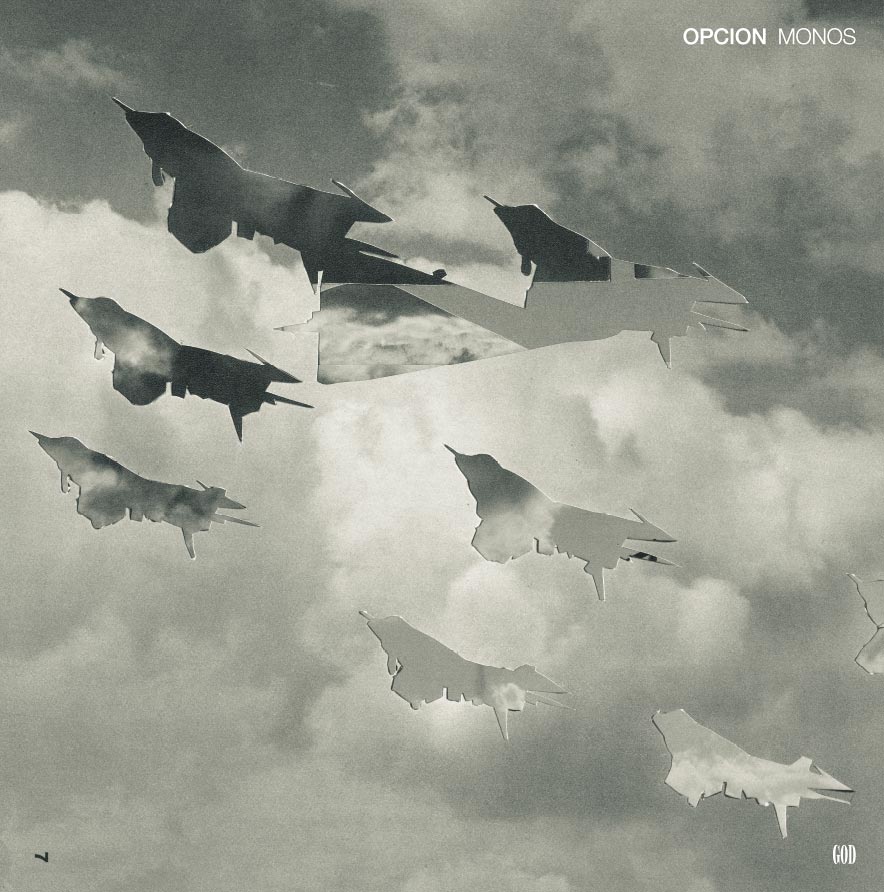 w/ Maja Osojnik, Bernhard Loibner & Kurt Bauer
Original cover artwork by Michalis Pichler
GOD Records, GOD32
Read More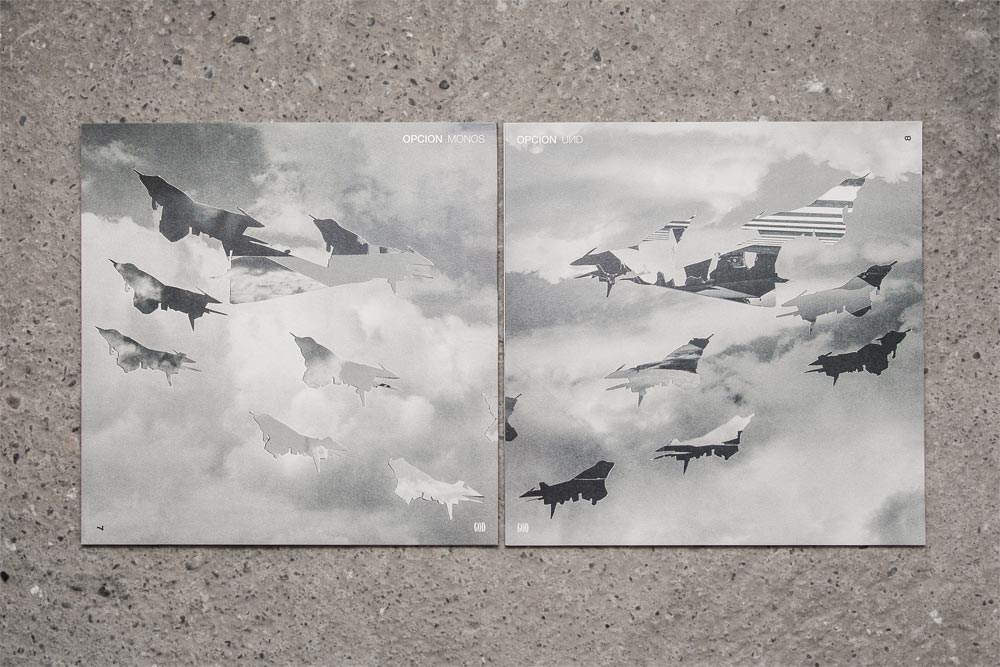 A Closer Listen – Richard Allen, Jan. 14th 2016
Opcion ~ MONOS/UND
There may be a name for the type of music produced by Opcion (formerly Ab-Hinc), but if so, it hasn't been invented yet. In MONOS/UND, we hear hints of John Carpenter, Ben Frost and Ricardo Donoso: a slowly uncurling mass of synths, accompanied by sluggish beats, skittish static and controlled noise. It's not quite drone, nor is it EBM; it's more like nu skool breaks heard through molasses. One could dance to this, albeit very slowly. MONOS/UND is better suited for walking on the outskirts of a club, scanning the crowd for a mark; or for cruising dark streets in a car with tinted windows. The sound is immersive, dangerous, thick with threat; the senses are placed on high alert. When the music is played for someone, it may inspire fear, but when played by someone, it inspires confidence and power.
Read More
Just outside – Brian Olewnick, 05. Nov 2014
The Striggles et. al. – Schiizo-Box (Rock Is Hell)
"This is a magic record!" proclaims the publicity sheet inside the cardboard box that looks as though it might hold a mini-pizza. But no, instead we find five 7″ singles (pink, gold, purple, red and yellow. plus a poster of sorts by Edda Strobl and Helmut Kaplan). Each single bears a composition by a different composer/band on one side (in color sequence: Peter Ablinger, Opcion, Kreisky, Bernhard Lang and Bulbul) and a piece by The Striggles (Kajkut, drums; Krienzer, guitar; Lepenik, guitar; Plass, voice and guitar–surnames only) which may or may not have any relation to its obverse. The "magic" involved is that most, perhaps all, of the sides are double-grooved (at least, maybe triple?), providing two different possible playbacks, though often the differences are subtle enough to be just barely noticeable, something I find far more interesting than completely different tracks. I'm not so sure this has been magic since the 1901 Pre-Dog Victor A-821 Fortune Telling Record and certainly 1973 Monty Python, but anyway. Here, especially if one was approaching the records innocently, you might become somewhat perplexed as, say, the closing word in a song wasn't the same as you remembered it form the last time. The tracks are very brief, lasting only a couple of minutes.
Read More
The Sound Projector – 02.2014
Pure I believe was this electronic extremist who did stuff for Mego and attained notoriety for sampling the run-out grooves of vinyl records to create his very austere digital music. He's still milking the "end of vinyl" concept apparently, since on No End Of Vinyl (CRÓNICA 079-2013) he's enlisted ten prominent electronica creators to contribute tracks (some of them remixes) based on the theme. Even the sleeve itself is cleverly overprinted with concentric circles on black card, so that it looks like an idealised vision of microgrooves. Hereon, @c – slow and increasingly menacing fragments of gurgly broken sounds; Christoph de Bablon – remix of the original 'The End Of Vinyl' to produce a boring and pompous synth tune; JSX with his 'Biological Agents' and a decent piece of techno-stealth dredged from the sewers of Paris; cindytalk hurling buckets of digital water over a cliff in slow motion; Goner's remake of a Pure track, using too many effects and gimmicks until incoherence dominates; and Opcion – an effective object lesson in "less is more", with chilling desolate tones.
Read More
BAD ALCHEMY – BA 78 rdb, 22. Jul 2013
AB-HINC – Farkhülse Fist Reconfigurations (Widerstand Records, WS16/LP4, 2 x 12″): Natürlich Graz, schon wieder Graz. 1997 ist dort bei Widerstand Records Farkhülse Fist herausgekommen, zwar ein Broken-Beat-Hammer, aber doch etwas abseits der Speedcore-Schiene, die Eiterherd an sich fuhr. Der da seine Faust schwang, war Nikos Zachariadis unter seiner Tarnkappe Ab-Hinc. Als Opcion ist er gerade einer der Remixer von Pures No End Of Vinyl (Crónica) gewesen. Und um Remixe geht es auch hier. Als Rekonfigurierer seines Sixpacks konnte er, 15 Jahre danach, natürlich Pure gewinnen, der Ab-Hincs Downbeat weiter entschleunigt und entgrätet und mit gurgelnder 'Red Room'-Stimme ins Unheimliche anschwellen lässt. Mit knarzenden Lauten und unscharfen Hieben scheucht er Fledermäuse auf. Kovert dreht als ein alter Shock-Effect-Praktiker an knurrigen Korgschrauben, während in dystopischer Düsternis sein Breakbeatgewitter zuckt. Der in-dust.org-Organisator und Auslebfeldbesteller Christian F. Schiller lässt als chfs eiserne Kügelchen in einer Auslaufrille kreiseln und dazu ganz, ganz allmählich Gedröhn anschwellen, beides in stoischer Monotonie.
Read More