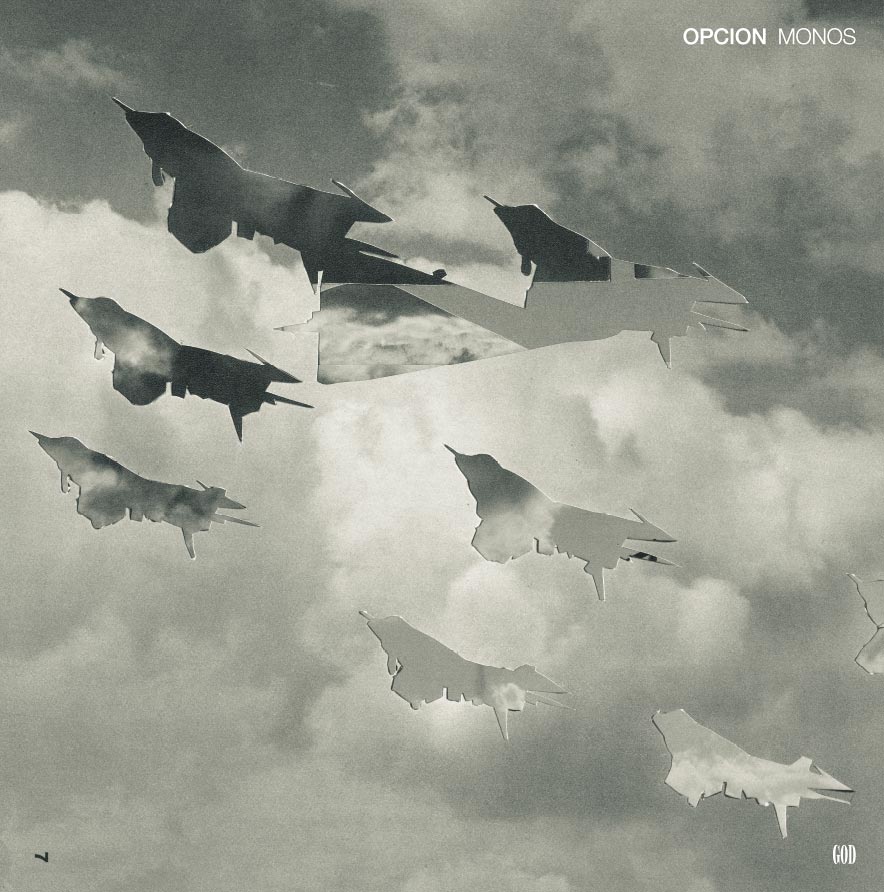 w/ Maja Osojnik, Bernhard Loibner & Kurt Bauer
Original cover artwork by Michalis Pichler
GOD Records, GOD32

MONOS/UИD is Opcion´s debut album under this moniker, released on the austrian vinyl-label for contemporary music GOD Records.
MONOS (Side A) offers three solo works of heavily processed dark ambience and swelling noises, accompanied by harsh stammering beats.
On each track of UИD (Side B) Opcion joins forces with one of the guest instrumentalists Maja Osojnik (Paetzold Bass Recorder), Bernhard Loibner (E-Bass) and Kurt Bauer (Violin), to create three works based on ruptured improvisational recordings which were later edited to become fully constructed pieces.
…
Format: 12" Vinyl LP
Label: GOD Records, GOD32
Release: 8.12.2015
Edition: 300 copies
…
Distributed by
Ready Made, DE
Toolbox, FR
Metamkine, FR
Soundohm, IT
…
Download PRESS material:
https://opcion.mur.at/opcion/OPCION-MONOS_UND-PRESS.zip (5.4MB)
…
Richard Allen of the excellent online magazine A Closer Listen says:
"There may be a name for the type of music produced by Opcion (formerly Ab-Hinc), but if so, it hasn't been invented yet.  In MONOS/UND, we hear hints of John Carpenter, Ben Frost and Ricardo Donoso: a slowly uncurling mass of synths, accompanied by sluggish beats, skittish static and controlled noise.  It's not quite drone, nor is it EBM; it's more like nu skool breaks heard through molasses.  One could dance to this, albeit very slowly.  MONOS/UND is better suited for walking on the outskirts of a club, scanning the crowd for a mark; or for cruising dark streets in a car with tinted windows.  The sound is immersive, dangerous, thick with threat; the senses are placed on high alert.  When the music is played for someone, it may inspire fear, but when played by someone, it inspires confidence and power.
The first three tracks (Side A) are purely Opcion: sparse, slow, measured tracks that set the stage for a wild Side B.  On that side, the artist is joined by Maja Osojnik, Bernhard Loibner and Kurt Bauer, which is where we locate the Frost association.  These pieces are heavy with processed electronics and violin, first improvised and then edited.  The tracks are heavy with squall and flutter, storm and drizzle; they tumble and morph and scream.  In doing so, they provide an apt reflection of the cover image, which looks like the after-effect of a raptor trying to claw its way through clouds.
This is a powerful suite of songs that defy easy categorization.  Rife with menacing beats and abstract, cinematic swirls, MONOS/UND is recommended to those who are tired of safe, placid music and want something more damaging and diverse."  (Richard Allen)
…