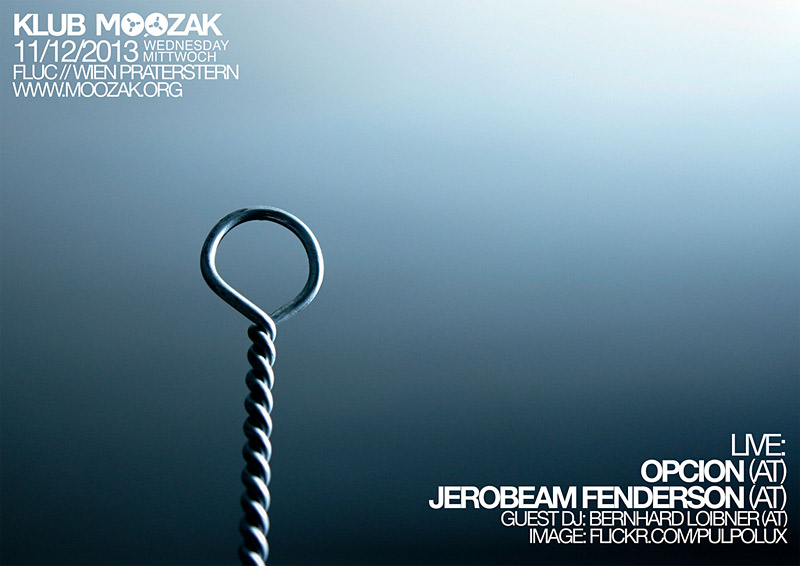 KLUB MOOZAK #65
11.12.2013 – 21:00 CET
FLUC VIENNA / PRATERSTERN
FREE DONATION
LIVE:
OPCION (AT)
JEROBEAM FENDERSON (AT)
DJs:
BERNHARD LOIBNER (AT)
MOOZAK RESIDENTS
–
OPCION (aka AB-HINC) (AT)
Multi-disciplinary working artist from Graz, Austria. Active in the areas of sound, vision, space and the fields inbetween. Started 1995 as a DJ and producer of dark, atmospheric and experimental electronic music under various monikers. 1997 first vinyl release "Farkhülse Fist" under the synonym AB-HINC on Widerstand Records. Since 2011 contributions to various remix releases under the synonym OPCION. Current member of the Interpenetration DJ Team. DJ sets and live acts at selected festivals and events, such as Elevate Festival, Interpenetration Festival, Steirischer Herbst, Rrrr and Sakra. Recently released the double vinyl album "Farkhülse Fist Reconfigurations" on Widerstand Records and Wire Globe Recordings.
JEROBEAM FENDERSON (AT)
Jerobeam Fenderson uses modular synths and audio programming to create drones and rhythmic patterns that are then visualized with an analog oscilloscope. In an attempt to get the closest possible correlation between image and sound, compositions of these noises not only take into account their aural components but also their respective shapes, as the oscilloscope shows an exact representation of the physical waveforms.
BERNHARD LOIBNER (AT)
Bernhard Loibner is a composer, musician and media artist from Vienna, Austria.
With his music Loibner treats various musical genres: from experimental and electro-acoustic, to post-rock and pop, from audio-visual to radio art. His musical compositions are characterized by the use of live electronics and computers as unique instruments based on software he writes himself.